GoldMine License Information
For various products available through us, the license we provide to you is "tied" to your GoldMine license by way of your Customer ID number and/or other parameters. So... we need it! The following screen shots are an attempt to help you track down the information we need to complete your order. To access this screen from within your GoldMine just click the Help menu at the top, toward the right, then choose About GoldMine... You may also see this screen when first logging on, depending on your settings.


Customer ID
The Customer ID is a 6-digit number, and is also sometimes called the "Contract Number," or "HDA." You can find it by choosing Help | About GoldMine while logged in.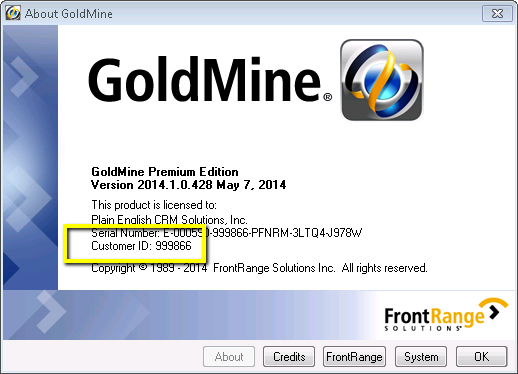 User Count
Your GoldMine license is for a specific number of users. It appears as part of your Serial Number in the first "chunk" of numbers following the letter "E". In the example below, the user count is 5.

Organization Name
You probably won't have any trouble recognizing this, as it's normally just your company name.

GoldMine Version
Sometimes this is helpful for troubleshooting; less commonly, it could also relate to the license we provide you for an add-on.