5/13/2014
Madison Heights, MI
For GoldMine users wishing to print single labels directly to their Dymo LabelWriter from their GoldMine toolbar, relief is now in sight!
Plain English CRM Solutions, Inc. today announced the full commercial release of Dime-O-Gold version 1.0 for users of GoldMine Software.
Dime-O-Gold is available in two "flavors" in this initial release: Pro and Express. The Express version is for printing single labels of the primary contact only, and is expected to meet the needs of over 70% of all users. The Pro version also permits printing labels for "Additional" contacts, as well as Filters and Groups. When printing multiple labels, Dime-O-Gold pauses before sending the list to the Dymo Label printer, allowing the user an option to review the list, amd manually remove any number of labels prior to printing.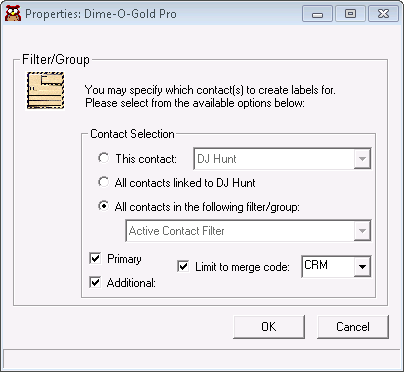 Dime-O-Gold Pro User Interface
for Filter/Group Selection
After printing labels, Dime-O-Gold offers users the option of logging a record to the contact's History tab.
An interesting feature in Dime-O-Gold is something Plain English calls "Smart Address," which automatically combines the address1 and address2 fields, based on user-configurable criteria, e.g. if address2 is "short," say, less than 10 characters, (i.e. "Suite 125") it would automatically be combined with address1:
Jones, Smith & Company
445 West Jackson Rd., Suite 125
Ann Arbor, MI 48104
Another criteria the system can use is the combined length of address1 and address2. If the combined length is less than 45 characters, for example, the lines would be combined; if greater than 45 characters, the lines would print one below the other.
Of course, users can always simply choose the "Verbatim" option, in which case the system would make no attempt to rearrange the address lines.
Another "SmartAddress" feature is the ability to suppress one's own country, if present. Virtually nowhere in the world is it necessary (nor even helpful) to include the country on a label for domestic mail. And you can suppress multiple incarnations of a name, like "US," "USA," "United States," etc.
Addresses without zip/postal codes are automatically suppressed, and left off the list.
Works with Version 8!
As of this writing Dime-O-Gold has only been tested with Dymo LabelWriter Software version 8.5. Prospective Dime-O-Gold buyers can download a free trial prior to purchase, to ensure the system will work in their specific environment.
Pricing is $69.95 for Dime-O-Gold Express.
Dime-O-Gold Pro is priced based on the GoldMine Licensed User count, and starts at $129.95 for 5 or fewer users.
For more information, including a downloadable demo, please visit http://www.plain-english.com/dime-O-gold.
You may also contact: Steven Graff, President, (248)399-8524, ext. 121, or your local GoldMine Solutions Partner.
Plain English CRM Solutions has been a GoldMine Solutions Partner since 1997.