GoldMine has never been easier to use! This mousepad gives you instant access to all of GoldMine's most frequently usesd hot keys and shortcuts. Looking for your Activity List? F6. Want the Additional Contacts tab? Ctrl-C. Email center? F5. All the speedy shortcuts you never bothered to remember (who would?!), and you don't have to search high and low for the cheat sheet where you wrote them down. Better yet, the GoldMine ShortCut MousePad means you don't need another scrap of paper taped to your keyboard or monitor.
Perfect for new learners, as well as seasoned vets.
Durable, high-quality material, full-size and thickness: 9-1/4" x 7-3/4" x 3/16"
$12.95 ea.
$9.95 ea. when ordering 10 or more (use Coupon Code MOUSE10)
Image: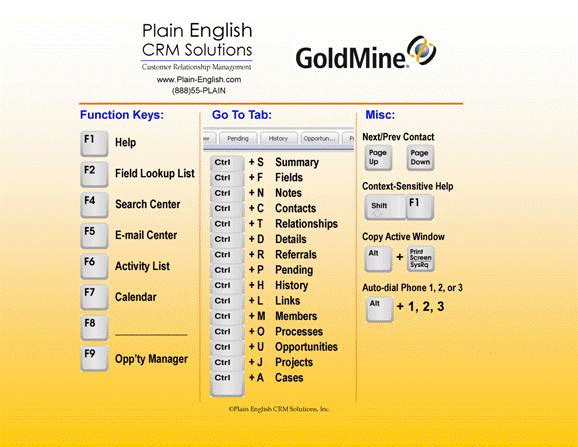 Event Date:
Tuesday, October 30, 2012 - 10:45am